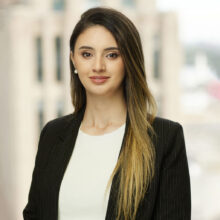 Admission to the Bar
2020
Assistant
Caroline Bénard
(514) 866-1008, #246
cbenard@belong.ca
Tassadit Tifoun
Tassadit Tifoun was admitted to the bar in 2020. She has been called upon to work mainly in insurance law, professional liability and general civil liability cases, more specifically in construction law and latent defects.
During her university studies, she completed a research internship with the Honorable Bernard Godbout, judge of the Superior Court of Québec, and was involved as a law student in government legal services.
Before joining the Bélanger Longtin team in 2021. Tifoun completed her internship and practiced as a civil litigation lawyer in the legal department of a major Quebec financial group and insurer, which allowed her to gain a thorough understanding of the investigation and indemnification process in damage insurance.