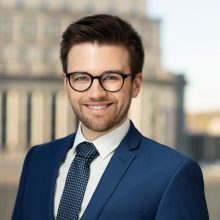 Admission to the Bar
2017
Faculty of Law
Université  de Sherbrooke
Assistant
Natalia Isidore
514.866.1008, poste 222
nisidore@belong.ca
Alexandre Baril-Lemire
Alexandre Baril-Lemire was called to the Bar of Quebec in 2017, after completing his internship in our firm. He is mostly involved in professional liability, disciplinary and labour law files.
While completing his bachelor's degree, Alexandre completed three internships in different law firms. He also won the inter-law school « Face à Face » debate contest, was auxiliary teacher for the documentary research course and volunteered for Pro-Bono Québec.
He is currently a volunteer for En Vero, a Canadian Association that helps victims of human rights violations.
Academic Background:
Bachelor of Law (LL.B.), Université de Sherbrooke (2016)
Areas of expertise:
Civil and Professional Liability
Disciplinary Law
Labour Law
Construction Law
Insurance Law