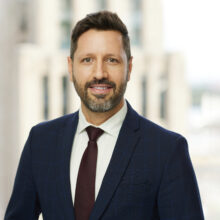 Admission to the Bar
2010
Assistant
Tatiana St-Fort
514.866.1008, poste 242
tst-fort@belong.ca
Harry Karavitis
Harry Karavitis graduated from Concordia University with a degree in electrical engineering and was admitted to the Quebec Bar in 2010 after having completed his internship with a national firm.
With many years of legal practice experience in commercial and real estate litigation with a particular focus on construction litigation, Harry joined the Belanger Longtin team in 2021.
In the course of his practice, he is called upon to represent clients in large and complex cases before all judicial tribunals in Québec.
Academic Background
Bachelor's degree in electrical engineering (B. Eng.), Concordia University (2006)
Bachelor of Law (LL.B.), University of Montréal (2009)
Member of Québec Bar  (2010)
Areas of expertise
Civil and Professional Litigation
Professional Liability
Construction Law