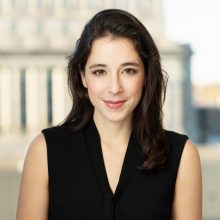 Admission to the Bar
2014
Faculty of Law
Université de Montréal
Assistant
Caroline Bénard
514.866.1008, ext. 246
cbenard@belong.ca
Laurence Massicotte
Laurence was called to the Quebec bar in 2014 after completing her articling at the Professional Liability Insurance Fund of the Quebec Bar.
She joined the Belanger Longtin team in 2015 as a litigation associate whose practice focuses on civil and professional liability as well as insurance law.
Perfectly bilingual and having completed a Juris Doctor in North American Common Law, Laurence was called to the Upper-Canada Bar (Ontario) in 2015.
Her endeavors include drafting of legal proceedings, counselling and representing her clients before various judicial and administrative jurisdictions.
Laurence is also involved with Young Leaders Circle of the Marie-Vincent Foundation, by developing and implementing new fundraising initiatives.
Academic Background
Member of the Law Society of Upper Canada (2015)
Juris Doctor in North American Common Law (J.D.) Université de Montréal (2014)
Bachelor of Law (LL.B.), Université de Montréal (2010)
Students Exchange Program, Université Catholique de Louvain (2011)
Certificate, China University of Political Science and Law (2010)
Areas of Expertise
Insurance Law
Civil and commercial Litigation
Civil and Professional Liability
Construction Law
Honors and Associations
Young Leaders Circle of the Marie-Vincent Foundation