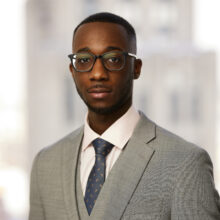 Admission to the Bar
2021
Assistant
Caroline Bénard
514.866.1008, poste 246
cbenard@belong.ca
Yann-Éric Azier
Yann-Éric Azier graduated from the University of Ottawa and was called to the Bar of Québec in 2021 after having completed his internship with a law firm on the South shore of Montréal.
He joined Bélanger Longtin in 2022 as a litigation attorney with a particular focus on civil and professional liability, construction litigation as well as labour law.
Before joining our team he completed multiple cooperative internships, particularly in several government legal departments, in a large private company and has acquired practical experience in disciplinary law by assisting professionals in various fields.
Academic Background :
Member of Québec Bar (2021)
Bachelor of Law (LL.B.), University of Ottawa (2021)
Areas of expertise :
Civil and Commercial Litigation
Civil and Professional Liability
Construction Law
Labour Law
Insurance Law